The World's Toughest Outboard Marathon | Celebrating 73 Years
Outboard Marathon Nationals: Racing August 14-15, 2021
Inland Waterway, Northern Michigan
Join the Top O' Michigan Outboard Racing Club (TOMORC) this August for the 73rd Annual Marathon. Over two days of exciting and tough outboard racing in Northern Michigan. The course navigates through 87 miles of Northern Michigan's beautiful Inland Waterway. Registration will be Friday, August 13th, from 5 to 8 PM at Devoe Beach in Indian River. Register also on Saturday, from 8-9 AM at the race pits.
2020 Online Registration & FAQ's
Thanks to APBA HQ, we are having ONLINE registration! We want to stress that online registration is highly encouraged if not required. Minimal contact is the new thing! Here's how to register online;
You must click the Entry Blank button and follow all directions. This entry blank also serves as your liability waiver. You may pay online with a credit card – if you do not wish to do this, you may pay at the pits with check or cash. Please do not forget to fill out your three crew members. These are the three people you get to bring with you into the pits. These three people need to sign the General Liability Waiver below.
Entry Blank Form
---
ONLY CREW SIGNS THIS ONE! No drivers. No more than three crew members. These members also must be listed on your entry blank. Click the General Liability button and make sure it's filled out by each crew member separately. Minors must be filled out at the pits in person.
General Liability Waiver
---
Drivers only! Please click the Locks Liability button to satisfy the separate Crooked River Locks Liability Waiver!
Locks Liability Waiver
---
For those that are having trouble with online registration, you have TWO options! We will still be having in-person registration on Friday, August 7th from 5-8pm at DeVoe Beach. Additionally, on July 28th we are having our final TOMORC Club Meeting at 6pm. We will be signing people up online at this meeting as well. If you are local, are having trouble, or do not have access to a computer, please attend this meeting to get signed up.
2020 Frequently Asked Questions
COVID-19 & Top O' 2020
Download COVID-19 SAFETY PLAN
---
Is there a race this year?
Yes!
Are spectators allowed in the pits (DeVoe Beach)?
No
Will you be monitoring people, racers, spectators, etc. that try to come into the pits?
Yes, very strictly. We cannot let more than 500 people in and we will be tracking this.
FYI to all racers – only three crew/family members are allowed into the pits with you. Please plan accordingly. This is due to the Governors Executive Order limit of 500 people for an outdoor sport gathering.
Are masks required?
Please see the above COVID Top O' safety plan PDF!
When can I bring my trailer into the pits?
3-4 pm
Do I have to go to registration on Friday night even if I registered online?
Yes. There is an informational packet that will have quite a bit of important material in it. You want tow money, don't you!?
Will there be food?
Yes, there will be a food truck!
Are there going to be t-shirts?
Yes! We just aren't printing as many.
Will there be parking in the pits for cars (this does not pertain to trailers)?
Maybe! This depends on how many racers we have register. If we have lots of entries, we may have to park trailers in the parking lot. If that happens, we won't be allowing people, racers, even board members to park their cars in the parking lot. As always, you can drop off materials, coolers, etc. and then move your car afterwards. Please plan accordingly!
Will there be awards?
Yes. After scores are finalized, pits are cleaned, and obviously weather dependent. Awards will be at the pits. Food truck is staying later as well. We anticipate 4/4:30 pm.
---
TOMORC Outboard Marathon Gallery
2021 Course
Saturdays course: approx 42 miles, modified Lemans start from pits out 1/4 mile to turn bouy and then back into Indian River. Race runs through Indian River then along the West side of Mullett Lake and entering Cheboygan River and running its full length to a turn around buoy in Cheboygan. The course then follows the same route back to a finish line at Devoe Beach in Indian River. Sundays course: approx 42 miles, modified Lemans start from pits across Burt Lake and then North to entrance of Crooked River. Course runs through Crooked River and into and around Crooked Lake making 3 check points and then back into Crooked River. Course then continues South along the West side of Burt Lake then across the lake into the Indian River. The race travels the full length of Indian River to a check point at Mullett Lake and then back through Indian River to the finish line at Devoe Beach. The Top O' Michigan Outboard Racing Club welcomes new participants and race veterans alike.
---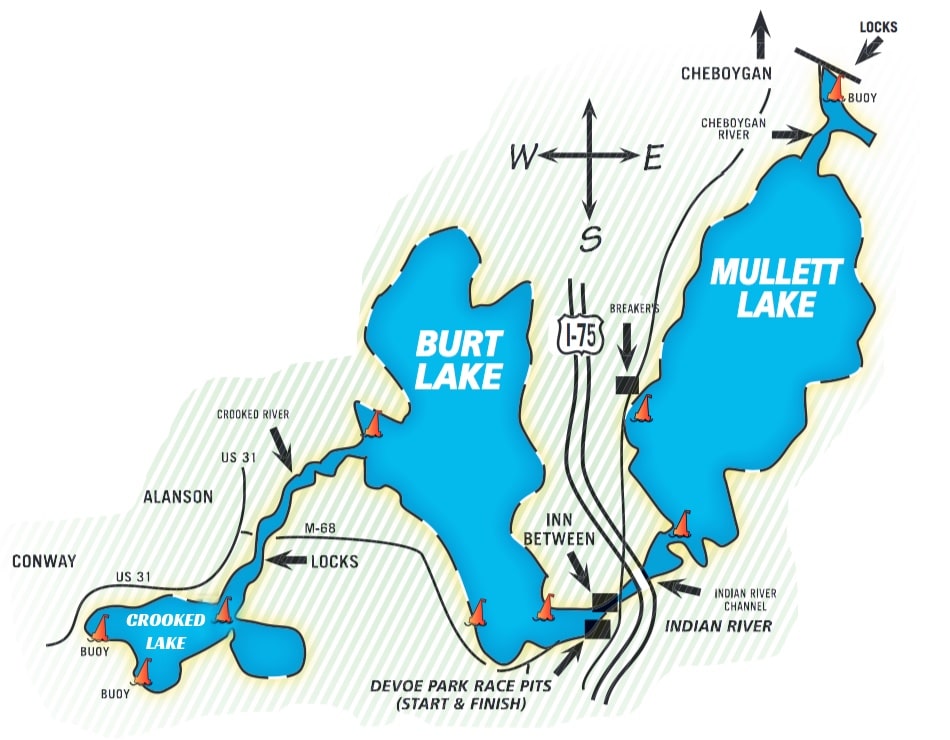 ---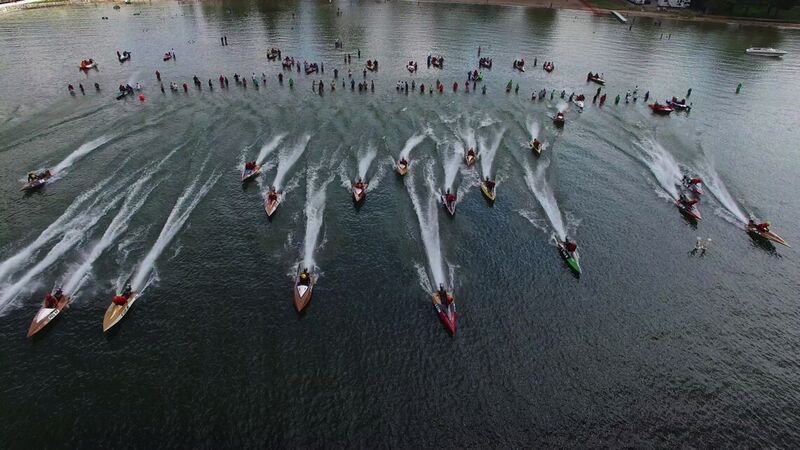 Aerial photo provided by McVideo Productions
Club History
The TOMORC started in 1949 as the Top O' Michigan Marathon Association. The TOMORC has continued to support the region & promote the marathon for the past 73 years. The club has 25+ active members who have continued to put on the oldest & most prestigious race in the outboard marathon circuit. The Top O' Michigan Outboard Marathon has been the Marathon Nationals for many years. In 2013, the Top O' Michigan Marathon won the American Power Boat Association Kevin Ladd Award for Best Stock Outboard Race in Region 6.
Fireside Race
Presented by the Presque Isle Yacht Club in association with TOMORC.
Stock Outboard racing on Grand Lake. Stock Outboard
Short Course | J Classes
20 Minute Marathon Both Days
2020 FIRESIDE 500 CANCELLED
June 13-14, 2020
TOMORC has been diligently keeping up with the COVID-19 developments throughout the last couple months. This situation is incredibly unique and changes daily. TOMORC is first and foremost committed to following all of the safety requirements imposed by public health authorities. Additionally, government protocols and executive orders have greatly impacted our initial decision-making.
Fireside Info: tomorc.race@gmail.com
---
Photo provided by Patrick D. McGinnis