The World's Toughest Outboard Marathon Celebrating 75 Years
Outboard Marathon Nationals: Racing August 12-13, 2023
Inland Waterway, Northern Michigan
Join the Top O' Michigan Outboard Racing Club (TOMORC) this August for the 75th Annual Marathon. Over two days of exciting and tough outboard racing in Northern Michigan. The course navigates through 87 miles of Northern Michigan's beautiful Inland Waterway. Registration will be Friday, August 11th, from 5 to 7 PM at Devoe Beach in Indian River. Register also on Saturday, from 8-9 AM at the race pits.
2023 Club Meeting Calendar
Meetings held at the Inland Waterway Museum @ 5:30 pm unless stated otherwise
February 22
March 22nd
April 26th
May 24th
June 28th
July 19th - Ryde Pole Barn @ 6 pm
August 2nd (TBD) 
August 23rd 
September 27th
October 25th
November TBD
December TBD
2023 Sponsors
---
2023 Class Sponsors:
ASR - A 1 MARINE / 15SSR - W.W. Fairbairn & Sons - wwfairbairn.com / 25SSR - Bill Goggin / CSR - Hot Shots Drain Cleaning - www.hotshotsdraincleaning.com / DSR - Irish Boat Shop - www.irishboatshop.com
2023 Platinum Sponsors:
Against the Grain Painting & Finishing - www.atgpaintingllc.com / Breakers Topinabee - www.breakerstopinabee.com / Fletch's Petoskey - www.fletchs.com / Grandpa Shorter's Gifts - www.grandpashorters.com / Insurance by Burley - www.insurancebyburley.com / TWB Builders / Wigwam Bar - www.wigwamindianriver.com
2023 Gold Sponsors:
Brown Tool / Coldwell Banker Fairbairn Realty / Comfort Center Alanson / Dewald Props / Epic Salon / Fernelius Toyota / Goral Property Services / Huron Distributors / Indian River Golf Club / Ken's Village Market / Lauer Pest Control / Luttrell Well Drilling / M&M Plumbing / Michaels Steakhouse / Northern Michigan Technology / Peachy Clean Services / Pearson Racing / Rob DeYoung / Staffords Crooked River Lodge / The Boat Doctor / Walstrom Marine
2023 Silver Sponsors:
Abent Pest Control / Anchor In Marina / BC Pizza Indian River / Berkshire Hathaway / Bill Goggin / Carters Imagewear / Citizens Bank Cheboygan / Creekside Construction / Dave Kring Chevrolet / Davy Contractors / Decka Digital / Edward Jones - Brandon Weir / Encore Financial Group / Far Hills Construction / Farm Bureau / Fay Martin / First Community Bank / Indian River Sports Center / Johansen's Tree Service / Kloss Construction / McClutchey's Store / McDonalds Cheboygan / Meat Monkey's / Mims Mediterranean Grill / Nubs Nob Ski Resort / Pinehurst Inn / Proline Garage / Reed's on the River / Rivertown Do it Center - Cheboygan / Ryba Marine / Ryde Marine / Sean Jordan Landscaping / Team Johnson / Teddy Griffins Roadhouse / Dutch Oven Bakery / The Gravel Guy / TJ Johnston / Weld Tech, Inc. / Wheeler Motors / Wilson Insurance / Woodwright Builders
2023 Bronze Sponsors:
Brass Rail / Burt Lake Marina / C&J LLC / Chebogan Golf Club / Ecker Surveyors / EXIT Realty / Hack ma Tack / HT Roofing / Indian River Collision / Indian River Pet Resort / Indian River Towing / Inland Waterway Museum / KP Neuman & Sons Construction / Kat Fisher Bait & Tackle / MacGregor P&H / Main Street Auto / Main Street Fitness / Modoc Log Furniture / Mulligans / North Country Homes / Northern Michigan Appraisal / Phillips Car Wash / Phillips Maintenance / Pier M-33 / Pollards Quick Lube / Polly's Planting & Plucking / Pub 27 / Screen Graphics / ServPro / Sign & Banner Factory / South End Party Store / Spanky's Powersports / Splash n' Dash / Straits Area Glass / Top Notch Tree Service / Waterway's Campground / 97.7 FM / Deb Sheaver / Wildwood Coffee
---
---
---
Past Marathon Results
---
---
Top O' Michigan Marathon Nationals Gallery
---
2023 Course
Saturdays course: approx 42 miles, modified Lemans start from pits out 1/2 mile to turn bouy and then back into Indian River. Race runs through Indian River then along the West side of Mullett Lake and entering Cheboygan River and running its full length to a turn around buoy in Cheboygan. The course then follows the same route back to a finish line at Devoe Beach in Indian River. Sundays course: approx 42 miles, modified Lemans start from pits across Burt Lake and then North to entrance of Crooked River. Course runs through Crooked River and into and around Crooked Lake making 3 check points and then back into Crooked River. Course then continues South along the West side of Burt Lake then across the lake into the Indian River. The race travels the full length of Indian River to a check point at Mullett Lake and then back through Indian River to the finish line at Devoe Beach. The Top O' Michigan Outboard Racing Club welcomes new participants and race veterans alike.
Photo by J. Schwartz Photography
---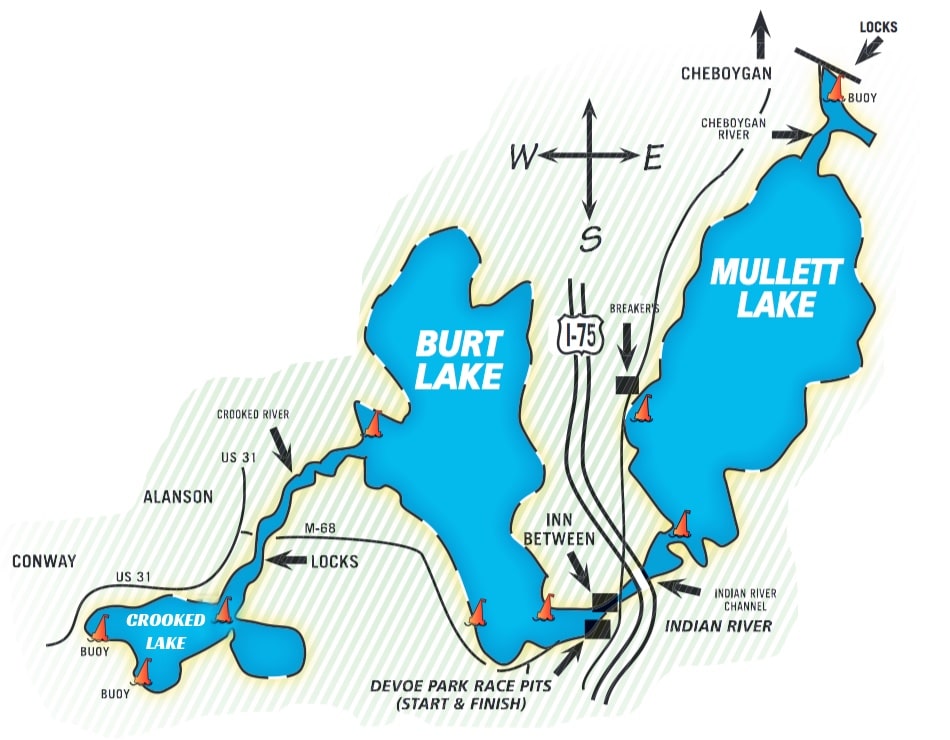 ---
2023 Marathon Nationals
The Top O' Michigan Outboard Marathon National Championship race will celebrate its 75th anniversary in 2023.
Founded in 1949, the race which is known as the world's toughest outboard marathon, has grown to legendary status in the boat racing world. For more than 70 years, boat racers from across the United States, as well as other countries, have been coming to northern Michigan to race across the rivers and lakes of the Inland Water Route in an adventure that tests both drivers and their boats.
For an event to reach its 75th running year is impressive. There have been many changes over the years ranging from the course layout to the registration fees – but one thing is still the same – the passion.
This year, in accordance with celebrating 75 years of boat racing, there will be a few more events put in place along with the club upping their usual customs. There will be over $8,500 awarded to top finishers and National Champions, bigger trophies, new merchandise and apparel, tons of freebies, two MORE parties, and a few surprises.
If you've been on the fence about participating or attending, now is your chance! This year will be bigger and better than ever, that we can promise.
Photo by J. Schwartz Photography
---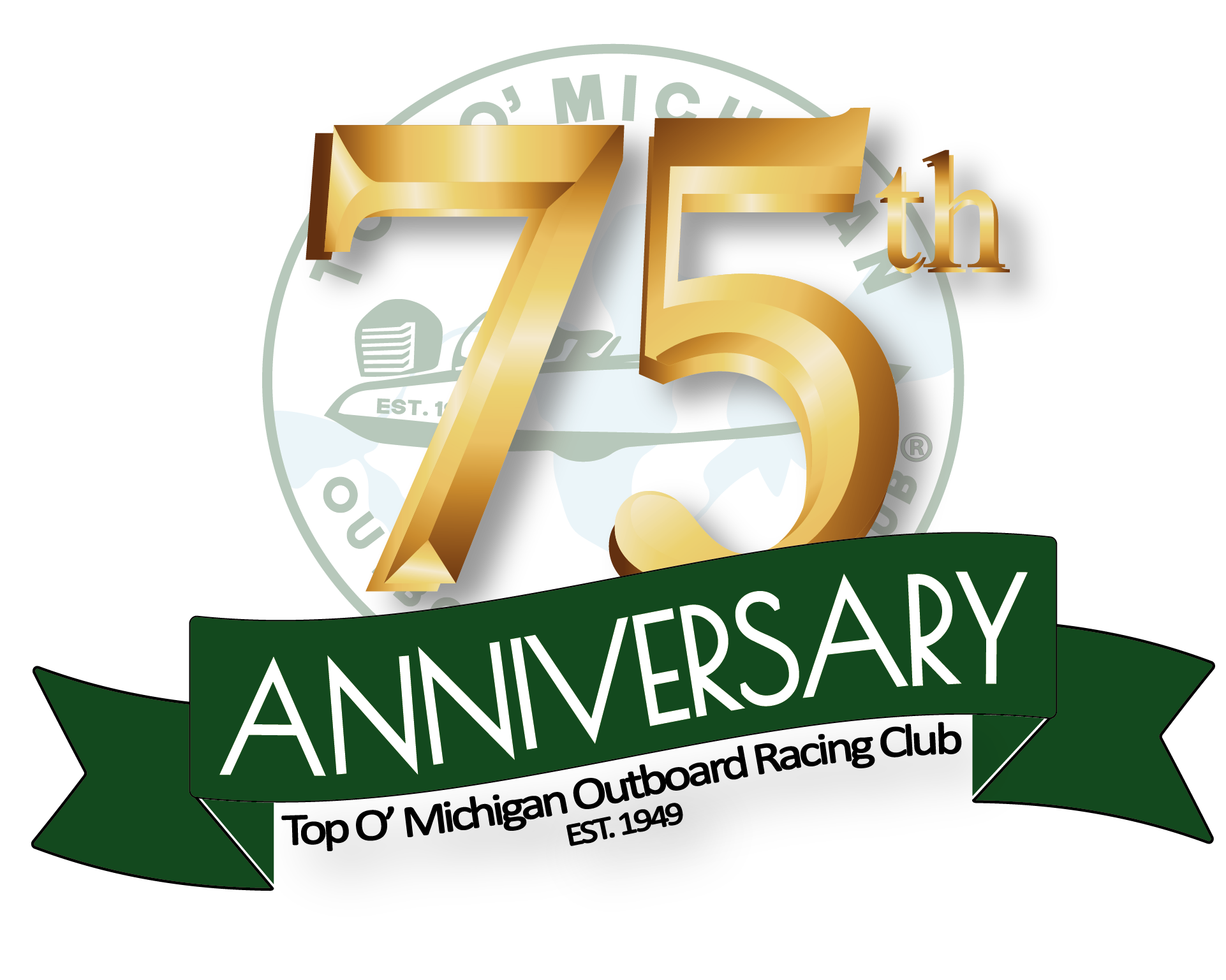 75 th Anniversary Celebration Schedule
Friday August 11 th : Racers, their families, pit crews, and our volunteers are invited to an exclusive and premier dinner with entertainment at DeVoe Beach during Friday night registration. There will be a wonderful meal catered by Dale and Angie Berry with dessert by Patty Lauer Bek and beverages from Pepsi!
This is limited to Racers, Families, Pit Crews, and Volunteers. If you plan on bringing more than 5 people along, please RSVP the attending amount by emailing: tomorc.race@gmail.com.
Saturday August 12 th : PARTY AT THE PINEHURST! 
Sunday August 13 th : Howe Marine @ 6pm with catering by the Wigwam Bar!
Register Online Here - https://form.jotform.com/230595371853159
---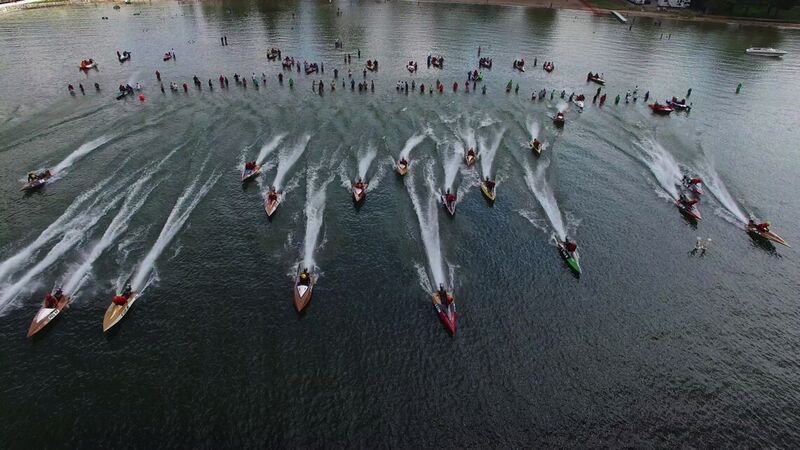 Aerial photo provided by McVideo Productions
Club History
The TOMORC started in 1949 as the Top O' Michigan Marathon Association. The TOMORC has continued to support the region & promote the marathon for the past 75 years. The club has 25+ active members who have continued to put on the oldest & most prestigious race in the outboard marathon circuit. The Top O' Michigan Outboard Marathon has been the Marathon Nationals for many years. In 2013, the Top O' Michigan Marathon won the American Power Boat Association Kevin Ladd Award for Best Stock Outboard Race in Region 6. Since 2019, TOMORC partnered with the Presque Isle Yacht Club to help put on the annual Fireside 500 on Grand Lake in Presque Isle, MI.
---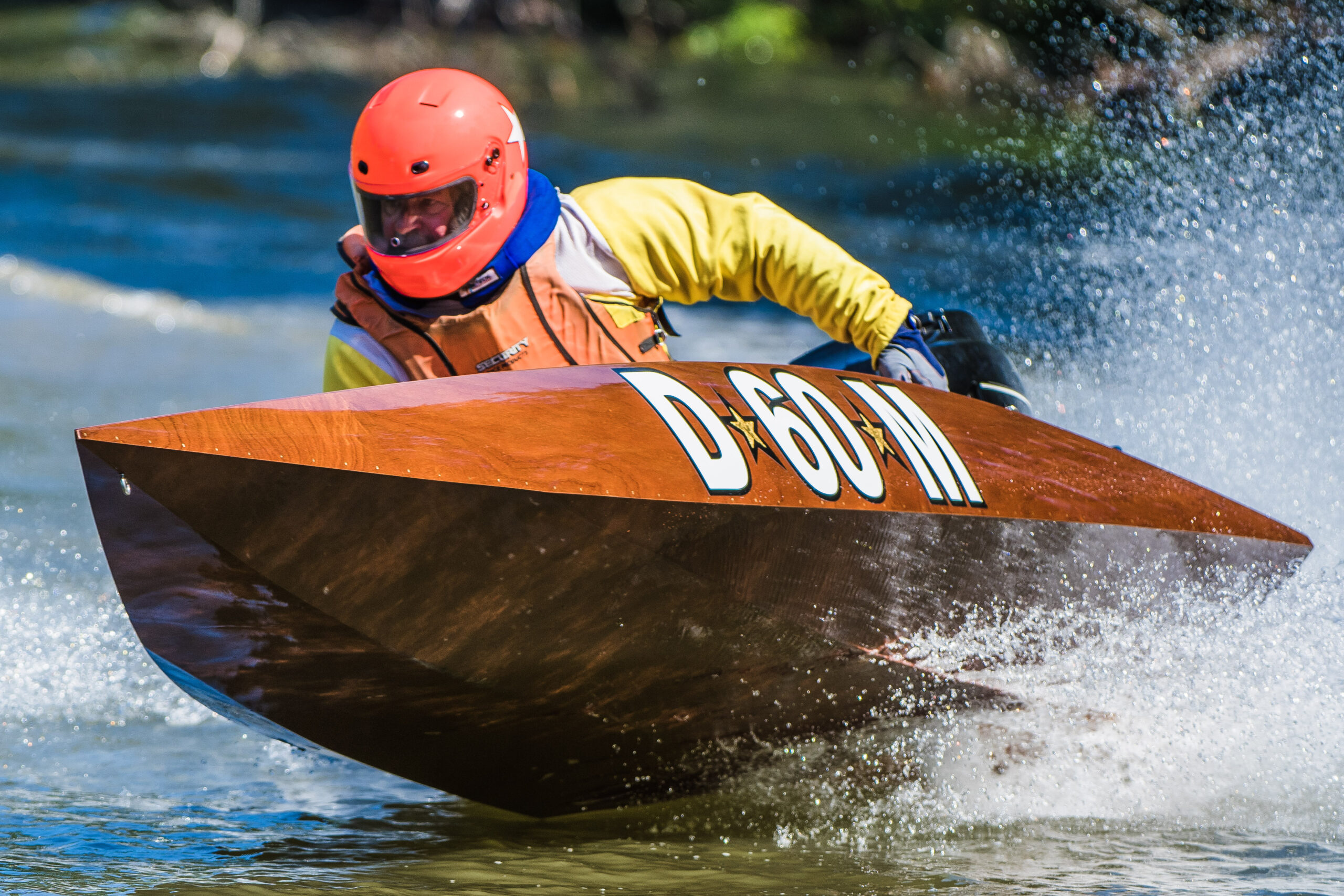 Photo provided by J. Schwartz Photography